Clot Activator Non Vacuum Tube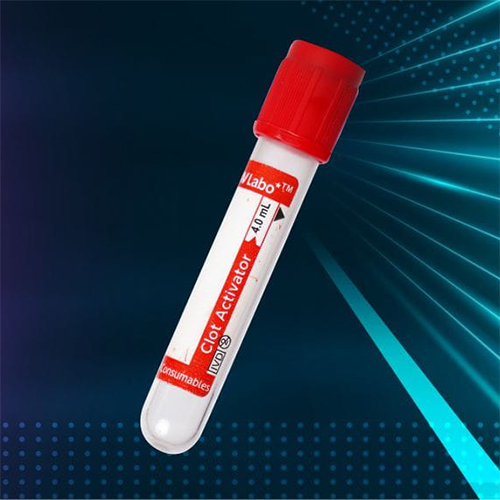 Clot Activator Non Vacuum Tube
Product Description
SPECIFICATION
| | |
| --- | --- |
| Brand | AVLabotUbe - Non Vacuum tube, AVLabovac - Vacuum PET Tube, AVLabo* Non Vacuum - PET Tube |
| Country of Origin | India |
| Size | 13x 75 mm |
| Capacity | 4mL, 5mL,6mL |
| Packaging Size | Inner Packaging 100 pc per rack, Outer Carton Packaging 2000 pc |
| Centrifugation speed | 2500-3000 R/M |
| Centrifugation Time | 5 min. |
| Time For Clot Reaction | 1.5 - 2 Min |
| Recommended Storage Temperature | 4-25 degree C |
| Pattern | Plain, Serum Clot Activator |
| Cap Type | Single Cap, Double Cap, Vacuum and Non Vacuum |
Keeping in mind ever-evolving requirements of our respected clients, we are offering a premium quality range of IVD Plain Serum Tube - In Single Cap, Non Vacuum/Safety Cap and Vacuum tubes (PET).
Feature : For Faster clothing time and improve TAT for Biochemistry and immonology tests.
USES :
Biochemistry test

Serology & Elisa Tests

Immonological tests

It is also used for various kinds of virus and microelement in medical inspection.
Instructions: Invert the tube 8-10 times immediately after drawing the blood.